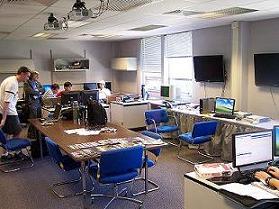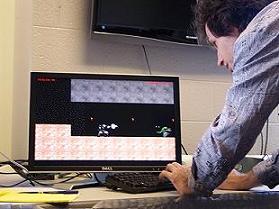 Latest Game Lab News (click link):
News
Under the leadership of Dr. Bruce Maxim, the CIS Department has created the G.A.M.E. (Games and Multimedia Environments) Laboratory where students can use sophisticated hardware and software to create computer games that contain user interactions that are as rich and exciting as those found in commercial games.
This laboratory, housed in CIS 239, supports the department's new computer science track in game design. More broadly, with the collaboration of the Department of Animation/Digital Media of the College of Creative Studies (CCS), in Detroit, the department hopes to attract students to study IT through undergraduate coursework emphasizing team-based game projects.
Establishing a dedicated game development laboratory provides students with space to do interesting, innovative, and collaborative work. CIS faculty members will be able to make more interesting course assignments based on known hardware and software capabilities without relying on assumptions about what software/hardware students will be able find on their own.
Students taking our second game design course work with CCS students on interdisciplinary project teams to create high quality 3D video games. UM-D students provide programming and software engineering expertise and CCS students provide artistic expertise in the creation of multi-media game assets. We hope to expand this collaboration to include yearlong senior design projects that will be valuable to students at both institutions. For example, one such project, begun in May 2007, allows users to experience the life of a homeless person on the streets of Detroit.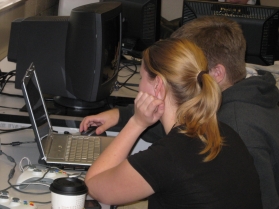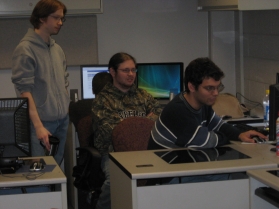 Download Visual Studio 2008, XNA Game Studio, Microsoft Expression Studio, and Microsoft Server 2003 from
Microsoft DreamsSpark Downloads
with your student ID for FREE!
Sign-up for the XNA Creator Club to gain the full potential out of XNA:
XNA Game Creator Club
| | | |
| --- | --- | --- |
| Role | Name | Email |
| Professor/Project Director | Bruce Maxim | bmaxim@umich.edu |
| Networking/IT | Jason Sabada | jsabada@gmail.com |
| Graduate Student Research Assistant | Matthew Sable | mdsable@umd.umich.edu |
| Website Designer/Programmer | Evan Musu | emusu@umd.umich.edu |